Invisible braces
Our Invisalign treatment in Richmond gives you the perfect smile by gently re-aligning your teeth using a series of made-for-you aligners.
What our patients say
Invisalign success stories
Watch more videos on invisible braces 
WHAT IS
Invisalign, & what does it do for you?
See how good your smile can look with Invisalign.
It only takes 60 seconds to see a new you.
Almost invisible – your friends probably won't notice you are wearing them
Removable when you like – so you can eat without them
Enables you to brush and floss normally for better oral hygiene
Allows you to eat any food, unlike braces
Made from smooth comfortable plastic rather then hard, sharp metal
Less frequent check ups at the dentist needed
See your smile before your treatment
Our high tech clinic allows you to see what your smile will look like even before you have had the treatment so you can decide if Invisalign is right for you. You can see your future smile today and know exactly what you can expect after this invisible straightening treatment, giving you confidence it will be money well spent.Call us today to book a free, no obligation, Invisalign consultation:
The number 1 Invisalign provider in the Richmond area.
We have been using Invisalign to create new smiles since it was introduced in the UK in 2004. So, we know how to use this system to its absolute maximum. This means that your new smile will be the best it can be, as quickly as possible.
We have invested in the latest technology to be able to scan your teeth in just a few minutes so we have a highly accurate picture of your teeth.
Our Itero machine is significantly more accurate than the old fashioned rubber impressions, which means you'll have better fitting, more comfortable aligners, and you get your beautiful smile in less time.
#1 Invisalign Provider in Richmond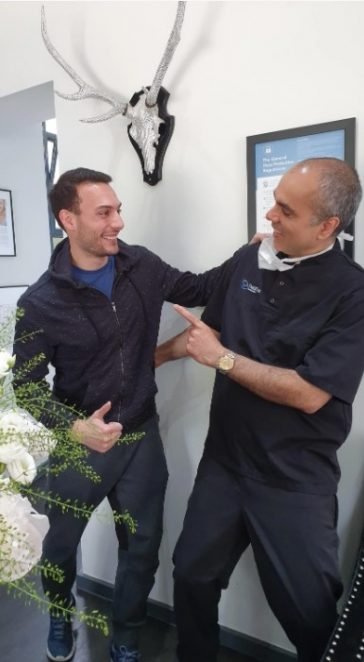 We only use the best quality retainers
Once your teeth have been aligned it's important to keep them looking great. We only use Vivera retainers, the highest quality retainers, to ensure you keep your fabulous new smile for years to come.
Vivera retainers are not only stronger than normal aligners, so less likely to break, they also are made of the same material as your Invisalign retainers so they are comfortable, clear and invisible.
The Richmond Dentist has 4 golden rules for successful Invisalign treatment: Wear The Aligners – Keep Things Clean – Use Chewies – Monitor Your Progress
We are not your average Dentist
At The Richmond Dentist we really go the extra mile to take care of our patients. Dr Gill was one of the first dentists in the UK to become accredited in Invisalign.
But don't take our word for it.. Check out what our patients say about us.
How much Does Invisalign cost?
The cost of Invisalign treatment depends on the specifics of your case. Typically it will be similar to the cost of traditional braces. The fee range is from £2,800. Additionally we offer all the benefits below, as part of our package.
3D scan, worth £300

Fixed retainers, worth £350

Removable retainers, worth £500

Retention follow-up for 1 year.

And we have a variety of Payment Plans.
How can we help you today?